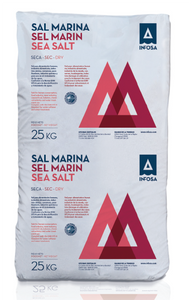 Sea salt 25kg £25.99 - FREE DELIVERY
Dry Sea Salt Type , is elaborated from the water of the Mediterranean sea, crystallized at the "Salinas de la Trinidad", which are like ponds in the Ebro Delta (Biosphere World Reserve by the UNESCO), washed, milled and dried in a totally natural way. Ingredients: Sea salt. Organoleptic characteristics.
Sea salt ingredient and additive for all the food and feed industry (GMP+).
Sea salt must be stored in a dry and cool place, without moisture and at room temperature
Infosa sea salt is a free allergen facility. This product contains no knows allergens. This salt is not genetically modified nor does it contain genetically modified organisms
---
We Also Recommend